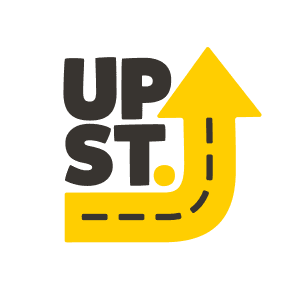 What We Do
UpStreet is an exciting environment where primary school kids from Prep to Grade 6 can join in the fun with other children each Sunday morning at 10am – held at Griffin State School. At UpStreet, we give children the opportunity to investigate who God is, what it would mean to trust him plus explore how to love others as God loves them.
Why would my child benefit from UpStreet?
Is UpStreet different to Sunday School? Can my child attend UpStreet if we are not sure if we would call ourselves a Christian family?
At UpStreet, we do not want children to simply memorise facts or even to know every Bible story. We do not want them to blindly believe what we say. Instead, we created UpStreet as a place where kids can learn from the Bible, from the leaders around them, and from their own experiences in order to become resilient thinkers who can make up their own mind about God.
We want to provide a 'why' for children, so they can support their choices and behaviours with a worldview and values that they have chosen to believe in. We want kids to ask questions, struggle to understand, and build on what they learn and experience to be true about following Jesus.
Why would my child enjoy UpStreet?
Every Sunday involves a time of engagement for your child that is meaningful, developmentally appropriate but also lots of fun! Children will partake in exciting games created to educate and entertain primary school children. Your child will meet each week to learn about God through hands-on activities, crafts, Bible stories, and songs. By engaging, your child will make friends with kids their age and connect with Small Group Leaders who will partner with you in their early spiritual development.
How will UpStreet benefit my family?
At UpStreet, we want to be FOR families – for YOUR family! That's why we have resources available to support families through parenting and the different phases of life that your primary school children will experience between Prep and Grade 6.
Subscribe to our weekly email that recaps the lesson from UpStreet each Sunday and provides parents with practical resources and next steps to continue the conversation about faith or the monthly value. The email also contains extra video resources for your children to engage with additional to the Sunday environment.
The Details
Whether you would call yourself a Christian or not – we would love for your child to come along to UpStreet! With UpStreet starting at 9:55am on Sundays and running through to 11:15am, our environment is separate yet complimentary to Beyond Church's 10am adult worship environment. This means if you would like to attend Beyond and drop your children off at UpStreet – fantastic! However, if you would like to drop your kids off at UpStreet and head off to brunch at a local café – you would be more than welcome!
Time
9:55am – 11:15am
Location
R Block - Griffin State School, 19 Wesley Rd Griffin 4503
Directions
When you enter the gates at the front of the school, please check in using the QR Scan code and then continue straight down the outdoor corridor, past the auditorium. At the end of the outdoor corridor, turn left to find our UpStreet room. Please see our Guest Services team located outside of the auditorium for directions if required.
Check in/ out
When you arrive, please sign your child in. One of our friendly team will assist you in this process to ensure your child and their needs are accounted for. Upon picking up your child, please ensure they are signed out.
Important Information
If your child has any allergies or a behavioural management plan that we should be aware of, please ensure one of our UpStreet team are aware of this upon check in.
We would love to see you soon!